J&J

STUMP GRINDING
J&J Stump Grinding is a family-owned business that has been a trusted source for top-notch stump grinding services for over 15 years. Our satisfied customers have given us countless 5-star reviews, showcasing our commitment to excellence and dedication to exceeding expectations.

We provide our services to the entire Pacific Northwest region and have the expertise and equipment to handle any stump grinding project - from the large to the small. Don't let a pesky tree stump get in your way - contact us today for a free quote, and let us get to work!
WHAT IS

STUMP GRINDING?
Have you ever wondered what stump grinding is? It's a quick and effective way to eliminate tree stumps without disrupting your landscape.

A specialized machine with a spinning blade or wheel with sharp teeth grinds the stump down to 6-8 inches below the surface and even deeper upon request. This ensures that the tree's entire root system is removed, so there's no chance of it regrowing.
SAFETY
Stumps are tripping hazards that can cause injury and damage to innocent passers-by. This can be particularly problematic for homeowners and business owners concerned with property liability.
SPROUTS
Some types of tree stumps will continue sprout shoots along with a deep root system. Tree stump roots can pose continued problems and damage by growing into and under driveways, sidewalks, gardens, and flower beds.
BUGS
Tree stumps are unsightly and attract unwanted pests such as termites and ants that can spread to other parts of your yard and property.
OBSTICALS
Stumps are stubborn obstacles in the yard, especially for the lawnmowers and can be a tripping hazard.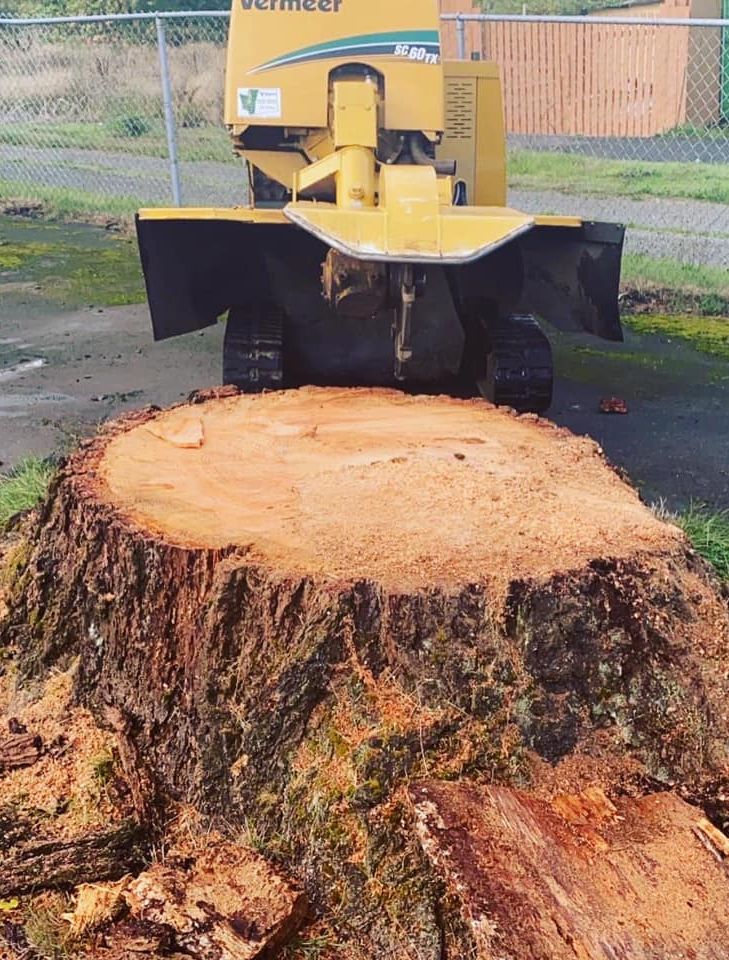 IMPORTANCE OF
STUMP GRINDING
Stump grinding is important for various situations, including commercial and residential properties. It is often necessary after a tree has been cut and can also be helpful before planting a lawn or garden. Stump grinding can prevent the growth of new trees or plants, protect new growth from roots, and prevent the spread of diseases.
WHEN TO
REMOVE A STUMP?
When clearing land
Prior to planting a new lawn or garden
Before a construction project